It's an open secret that a lot of casinos are located on boats or near water bodies. And you may and may not have given much thought to this. However, those that have thought about this are curious to find out why many casinos are on boats. And we'll be discussing the topic in detail in the article.
Casinos are built on boats/water because of religious and social implications. There exists a vast majority of people that are against gambling, and building casinos on boats is some kind of compromise – the social impact is limited and the government generates revenue from casinos in form of tax.
If you've ever read about the history of gambling in the United States, then you'll know how complicated it is. Gambling was seriously frowned upon by society when casinos were first established. But the government couldn't ignore casinos as they were a source of income for the government. The aim of the government was always to balance morals with income. And while it's easier said than done, the government managed to pull it off.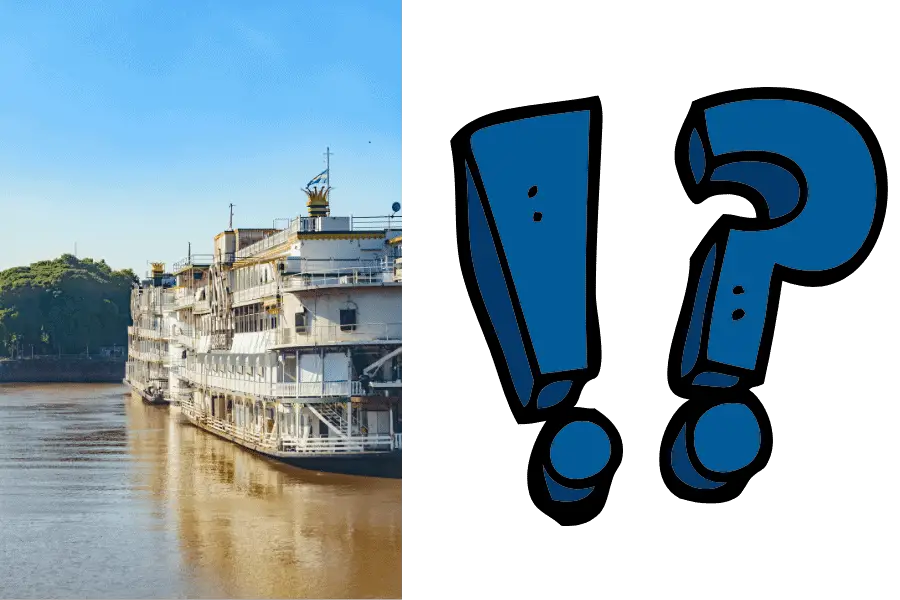 Casinos on boats are a lucrative business, not just for the casino itself, but also for the local community.
Why Are Casinos Built On Indian Reservations?
Indian casinos, Indian reservations – these are words that you might be familiar with. Now, in case you don't know, an Indian reservation is an area occupied and managed by a federally recognized Indian tribe.
If you've not noticed, Indian casinos are all the craze in the US with many more still popping up. And to understand why many casinos are built on Indian reservations, we'll have to travel back in time. We've already got a time machine up and running.
It all began with the tax, pal. About 50 years ago, the County of Itasca, Minnesota attempted to impose a property tax on the house of a couple – Russel and Elen Bryans. Now, the house of the Bryans was located in – guess it – an Indian Reservation. The Chippewa Indian Reservation to be exact. The couple didn't take kindly to the tax as they felt the county had no authority to impose it on them.
Lawsuits here and there but eventually, the Supreme Court ruled in favor of the Bryans as said states lack jurisdiction to regulate any activity on Indian reservations.
Ruling in court allowed the Indian reservation to bypass the state's strict gambling laws. Gambling boomed in the reservation and the people had fun like never before.
Casinos are built on Indian reservations because of the relaxed legislation in the region as well as the huge revenue potential.
Why Are Casinos Built On Rivers?
Again, we'll have to dive into history to explain why casinos are built on rivers. Gambling on the water started around the period when the earliest riverboats were manufactured. These riverboats were a major method of transportation, even becoming more popular than trains. Luxurious cruise boats/ships also existed taking people for sightseeing as well as offering different kinds of entertainment.
There wasn't much for people to do when aboard so they started playing cards. And as you can imagine, it was only a matter of time before money was involved and that was how gambling started on boats. It must be mentioned that many states were firmly against gambling during this period and had passed laws to prohibit it.
However, these boat casinos were exempted from local laws applicable to land-based casinos. If anyone wanted to gamble, all they had to do was to go to a riverboat casino.
In a nutshell, casinos were built on water in a bid to find a legal loophole in the existing laws that were firmly against gambling.
Video: The Casino Riverboat Treble Clef. Many boat casinos got abandoned and are almost like ghost ships nowadays.
Whether gambling on water or land, the government couldn't just leave casinos alone. So some states – Iowa, Mississippi, Missouri, Illinois, and Louisiana – legalized riverboat gambling in the early 1990s. Income was generated and gambling enthusiasts could enjoy the thrill of gambling. Win-win situation.
Eventually, casino owners started looking for a way to increase gambling time. Also, customers do not like the boats leaving the dock as this means they had to be on board for a set period of time. This led to boats being moored on the edge of the river.
Nowadays, most boat casinos do not move. In fact, some are more like stationary structures that float on water blocks.
Hurricanes Had A Big Impact On the Gambling Industry
A hurricane, dubbed Hurricane Camille, hit the Gulf Coast hard in 1969 effectively destroying casinos, hotels, homes, and other businesses. This led to the collapse of the gambling industry in the area. Mississippi would later legalize dockside gambling in a bid to revive the economy of the state. Several casinos opened up along the waterfronts and everything seemed fine. Well, until another hurricane hit!
Hurricane Katrina hit the Gulf coast bringing about devastating destruction. You could do a quick google search to see the havoc Hurricane Katrina wrecked on the Mississippi. Large boats, including gambling boats and ships, were pushed inland by the hurricane causing yet another loss for the gambling industry.
It was at this point casino owners and the government realized building casinos along the waterfront isn't a very good idea. Yes, two hurricanes will make you realize that.
A compromise was reached and state laws allowed casinos to be built inland though it must be within 800 feet of water.
Modern Casino Vessel Regulation
In 1951, the Transportation of Gambling Devices Act was passed. This act prevented the transportation of gambling devices across states except in instances where the local jurisdiction of the destination permits it.
The aim of this act was to ensure gambling devices were not shipped on established trade channels. This was initially going to be a problem as some states allowed gambling on water. But any concerns were quickly put to rest as several states began to legalize riverboat casinos.
Video: Grand Victoria boat Casino Community Impact
Each state passed their own bills on riverboat gambling. While there's no uniformity on the bills passed, some of the requirements regarding riverboat gambling are discussed below.
Boat Appearance – Louisiana laws required owners to design their gambling vessels like the early 19the century paddlewheel boats. And this will determine technical requirements on the ship propulsion.
Technical Requirements – Gambling vessels in Louisiana must be either partially or completely paddlewheel driven. The aim is the same as that of the boat appearance – they want the vessels to look authentic and really similar to the early paddlewheel boats on which water gambling started.
Vessel Size And Capacity – Indiana laws require that the minimum size of a gambling vessel be 150 feet. Also, the vessel must be able to accommodate at least 500 passengers. Louisana laws are slightly different as it requires the vessel to have a minimum capacity of 600 people including crew and passengers.
Wager Limits Per Bet And Per Slip – This varies from state to state. In Iowa, there's a bet limit of $5 and a loss limit of $200 per player and per cruise.
Restrictions In The Conduct Of Gambling – Most states initially required gambling to take place only when the ship is en route. Now, gambling takes place on boats that never leave the dock. The change was brought about due to safety and weather considerations.
Number Of Licences To Be Issued – Louisiana has a limit of 15 boat casino operation licenses. The number in Illinois is about 10.
Modern Day Riverboat Casinos
We've talked a lot about the history and evolution of legislation guiding riverboat casinos. So it's fitting we talk about some casino vessels that are operational today.
Casino Queen – This vessel can be found on the Mississippi riverbank in Iowa. This vessel was previously known as Lady Marquette but got its new name after the current owners acquired it in 2016.
Grand Victoria Casino – Located in Elgin, Illinois, the Grand Victoria Casino has been in operation since 1994. And its currently owned by Eldorado Resorts when they took over in 2018.
Casino Aztar – This vessel can be found in Evansville, Indiana. Essentially a replica of a riverboat, the Casino Aztar navigates along the Ohio River. This boat is one of the major attractions in Indiana and has been active since 1995.
Amelia Belle – This boat can be found in Louisiana. There are over 800 slot machines onboard as well as several tables for gambling. The classic golden age design of this vessel is captivating.
Ameristar Casino – This boat can be found in Vicksburg, Mississippi and it's been operational since 1994.
River City Casino – Featuring a 90,000 square foot gaming floor with over 2,000 slots and about 55 tables, you are bound to have endless fun on the River City Casino.
Related Articles